People, people, people. It's hard to believe isn't it? I've hit another European superpower… and lived to tell about it. :] But first…
…here's your opportunity for two things. ;]
Let out all the anger I may have caused you in delaying this post for such a lengthy amount of time.
Get over it and read this to the end, enjoying all the lovely photos I've uploaded specifically for your enjoyment. :] mmk?
Anyway, the last time I left you wondering about my adventures in Italy, I'd just finished speaking about London, Albania and Croatia. Finally I've gotten around to the big one, so enjoy the photos below!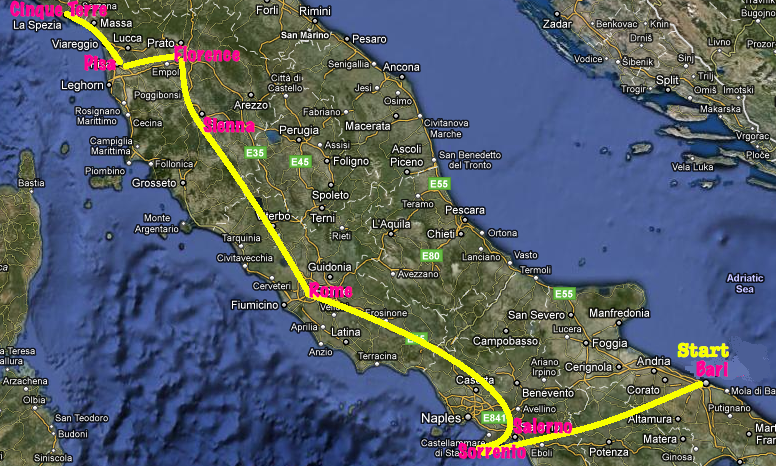 Arriving in Bari on Italy's Eastern coast, we had our first overnight in an odd little hostel (thankfully with air conditioning) and the next morning picked up our hire car (a sexy Ford Fiesta) and drove west, just as the Village People first suggested in 1979. We were headed to Sorrento, on the furthermost tip of the Sorrentine Peninsula. One problem though, we had to drive across the country in a day (literally) and the last strip would turn out to be the worst… four hours along the infamous Amalfi coast; beautiful but deadly… for driving. The entire journey as we weaved along the narrow cliffside road, dodging buses and other cars by centimetres, with mopeds ducking in and out of the traffic at top speeds, I was scared. In fact, I remember saying something along the lines of "I'm frightened for my life", whilst clenching the front seat with all my might.

Thankfully we made it there, and I was rather impressed with Sorrento, particularly after having seen so much of it on account of our non-functioning GPS not being able to get us to the camping ground we'd call home for the next three nights. By night, the camping ground would come alive, filled with Italians traveling from far and wide, as well as numerous German, Spanish and Australian tourists, all flocking to the bar that was served well with some delightful Karaoke music. Have you ever seen a fifteen-year old Italian sing Karaoke? Don't. It might ruin your opinion of Italy.

The first day we visited the town that was ruined after nearby Mt. Vesuvius erupted and its gases suffocated the townsfolk. Pompeii was truly fascinating. We saw how the old Roman world functioned, from the collecting of water, to satisfying the sexual appetites of city officials. (There's a famous brothel, noted for its erotic murals). Being a large city (see map below) with absolutely no shade whatsoever, the 40 degree (celsius) sun certainly had a bite. Sunburn was imminent and no matter how much sunscreen I applied, my skin couldn't help getting sunburnt. Thanks pastiness, you've done it again. When the day was out and we'd done all the wandering our feet could manage, we headed back to the campsite and dined out… again. Italian food, I have to say, is the real deal. :]